Discover everything about Dover, the closest English city to France, which has a beautiful medieval castle, incredible white cliffs and lots of history to tell. An unmissable place that needs to be on your England travel itinerary.
What to do in Dover?
To facilitate your visit, all the main attractions and tips about the city are bellow.
1. Dover Castle
This medieval castle is a gigantic structure and it is possible to spend an entire day just visiting the attractions in it. The Dover castle was built in the 11th century at the request of King Henry II. He is described as the "key to England" due to its defensive importance throughout history. During the 18th century, it underwent a process of mass fortification, due to the possibility of Napoleon invading the country. With Dover becoming a garrison city, there was a need for barracks and warehouses for additional troops and their equipment.
The solution adopted was to create a tunnel complex about 15 meters below the top of the cliff. At the height of the Napoleonic Wars, the tunnels housed more than 2,000 men and, to this day, are the only underground barracks ever built in Britain. With the outbreak of World War II in 1939, the tunnels were converted first into an air-raid shelter and then into a military command center and underground hospital. Currently, these tunnels can be visited through guided tours. In addition, the Princess of Wales Royal Regiment Museum is located in the castle.
2. White Clays of Dover
One of the main features of the city is its incredible white cliffs. These are cliffs that form part of the English coast in front of the Strait of Dover and France. The cliffs extend for 13 km and are up to 110 meters high. Its composition is chalk and accentuated by streaks of black flint, providing a beautiful view of those who walk the coast. Since 2016, the place has been managed by the National Trust, which has opened a visitor center on site, as well as a café and shop. It is possible to make trails to admire these white wonders and, on open days, it is even possible to see the French coastline of Normandy, as this is the closest point to continental Europe.
3. Dover Center
The city center is very compact and can be reached on foot in a few hours. We separated some of the main attractions to check there:
Museums
Dover Museum: It is much more than just a museum of local history and also an archeology museum. It even displays a remnant of a large prehistoric wooden boat that is about 3,000 years old.
Address: Drop Redoubt Rd, Dover CT17 9AP | Hours: from October to March from Monday to Saturday from 9:30 am to 5:00 pm / from April to September from Monday to Saturday from 9:30 am to 5:00 pm and Sunday from 10 am to 3:00 pm | Admission: free
Roman Painted House: Special exhibits of artifacts found in excavations of ancient Roman forts in the region.
Address: 25 New St, Dover CT17 9AJ | Hours: April from Tuesday to Saturday from 10 am to 5 pm / May only on Tuesdays and Saturdays from 10 am to 5 pm / June to September from Tuesday to Saturday from 10 am to 5 pm / closed from October to March | Entry: £ 4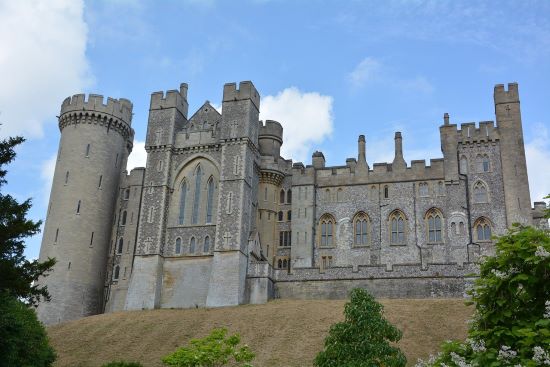 Other Attractions
Western Heights of Dover: Currently, in ruins, this extensive network of fortifications was initially built during the Napoleonic wars and completed in the 1860s, in order to protect the city from French invasion.
Address: Drop Redoubt Rd, Dover CT17 9AP | Hours: as long as there is natural light | Admission: free
St Mary's Church: The current church of Santa Maria was built on an old Roman church. The Norman building we see today began to be built between 1066 and 1086. Many of the stained glass windows, placed to replace those destroyed in World War II, commemorate the various historical associations between the church and the city.
Address: Cannon St, Dover CT16 1AA | Hours: open daily, hours not disclosed | Admission: free
Pencester Gardens: These gardens are located in the center and offer a welcome area of ​​green space within the city. The open lawns to the River Dour provide a pleasant area to relax. In the bandstand, built in 2000, a series of events takes place during the summer.
Address: Pencester Rd, Dover CT16 1NS | Hours: 24 hours a day | Admission: free